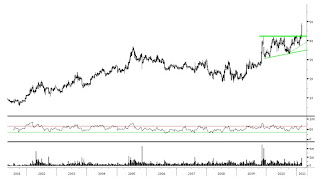 We have decided to change our stock ranking to reflect current sensibilities more closely.
Rankings formerly known as "Buy" "Neutral" "Sell" and "Sell Short" have been given more descriptive terms. Buy is now WINNING, Neutral has been changed to GODDESSES, Sell is TURD and Sell Short is AT WAR.
Also please be aware that our long short portfolio has been renamed TIGER BLOOD TRADING.
Please make a note of this.
~~~
Last week, PEET broke out over longstanding resistance. We have upgrade the stock from GODDESSES to WINNING !!
That said short term shares are a bit extended but on any pullback of a few $'s we would be buyers as our upside target is $ 60.00. The catalyst behind this move will be the increased growth from the anticipation that PEET will be added to the Keurig platform.